I maj deltog folkhälsominister Maria Larsson med buller och bång i Stockholmsbaserade World Federation Against Drugs kongress. I det avslutande ställningstagandet, med rubriken "Moving towards a Drug-free Society", förklarade organisationen:
Realizing that advocates of legalization and decriminalization of drugs are driven by greed, disrespect of human rights and lack of understanding of the harms of drugs and of addiction.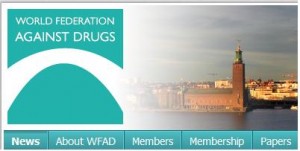 I ett uttalande från i december 2011 skrev organisationen:
The groups supporting legalisation are:  people who use drugs, those who believe that the present system of control does more harm than good, and those who are keen to make significant profits from marketing newly authorised addictive substances. In addition to pernicious distribution of drugs, dealers circulate specious and misleading information.  They foster the erroneous belief that drugs are harmless, thus adding to even more confused thinking.
Tänker en svensk minister så om några av Latinamerikas viktigaste demokrater, Polens förre president, Uruguays och Costa Ricas nuvarande presidenter, Brasiliens senat med flera?
Att de är giriga, inte respekterar mänskliga rättigheter, använder narkotika, vill tjäna pengar på sin politik eller tror att narkotika är ofarligt?